what can you do when clients are social distancing
W

ow! What a difference a month makes. Last month the markets were at all-time record highs. As I'm writing this, the markets are down over 30% in just a couple of weeks. We are all practicing "social distancing"—words that were not even in our vocabulary a month or two ago. We all know this business is hard. Now it may seem impossible to many new advisors.
What if I told you, instead, this is YOUR time to shine! YOU can dominate your local market. While everyone else is hiding under their desks telling each other how terrible things are, YOU can take a different path. I remember when I first came into this industry: the country was in a recession. It was tough. People were struggling. Unemployment was climbing. And here I was, entering the Insurance business. I remember one of my first meetings. A top producer got up and started telling us how awesome things were going. He was having his best year ever. When someone asked him how this could possibly be true in this terrible economy, he said "I have chosen not to participate in the recession."
I remember thinking about how odd that was. He simply chose to NOT participate in the recession. I am encouraging you to do the same. Oh, keep your social distance but change your THINKING! There are huge OPPORTUNITIES out there. Be creative. Think outside the box. There are some businesses that are BOOMING right now. Look for them. Change the way you do business. Use this "down time" to YOUR advantage. Everyday I am posting ideas on how to do just that. Please follow my social media posts, but here are a few themes I have been pressing.
1.

First, you have to get your ATTITUDE in order. Start every day with, "if it's to be, it's up to me!" Stay positive. Let the others be the Debbie Downers of the world.
2.

Second, you must increase your ACTIVITY! Start meeting people and running appointments virtually. Use Zoom, Facetime, Join Me, Webex, or whatever app you want. But get familiar with how you conduct a virtual meeting. You can do fact finders, annual reviews, share slides, illustrations, conduct webinars, and more, but you MUST have a virtual plan. You can also drop off books or DVDs to your clients' homes. Right now, they have time to read and watch.
3.

Third, put your plans into your calendar and HOLD YOURSELF ACCOUNTABLE! Look, we all have blank calendars right now. If you don't fill it with activities, you will waste your time doing non-productive things. I am speaking from experience. I have the same problem, but every day I am putting things on my calendar that I must do to continue to be effective and drive revenue.
4.

Fourth, use this time to STUDY, LEARN, and TRAIN! This is the time when you can learn more than you have ever learned before. When the slowdown ends you can leap ahead of your peers.
I want you to know that TomHegna.com was BUILT for times like these. We have FREE webinars to give you great training. I have a FREE YouTube channel. We have books, audio books, DVDs, white papers, and more. All of these can educate your clients and prospects. See, people will listen to our message now. Yes, they should have listened a month ago, but that is how the world works. Be LOUD and PROUD with your message. The insurance industry will give them CERTAINTY in times of uncertainty.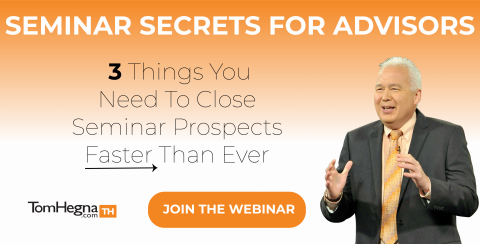 Join me for my FREE "Seminar Secrets for Advisors" webinar, where I share the secrets that I learned from giving over 5,000 seminars in all 50 states. These are the same secrets you need to deliver effective webinars and conduct virtual appointments! You will even have the opportunity to get the same slides I use in my seminars and webinars. Click here to register.
See you at the webinar,
Tom Hegna