Step Your Game Up with Seminars
I

f you aren't putting on seminars you're missing out on long-term client relationships that generate recurring revenue. If you are, you need to step your game up. Many of you know me as a real road warrior—I just finished a 13-day road trip! How many seminars are you doing this quarter? No matter what your experience with seminars is, there are a lot of logistics with costs that can get out of control. Creating a presentation and filling the seats requires a lot of time and money that will determine if your seminar was less than it could have, would have, or should have been. Optimize your seminars by investing your budget in resources that will grow your business.
When creating your presentation, it's easy to become overwhelmed by all the administrative tasks required like choosing a topic to present, gathering research to include facts, writing your script, designing a slideshow, creating speaker notes, proofreading and editing, submitting everything for compliance review, and event gathering or renting equipment! Simplify this part of your process so you don't overinvest too much time or budget. Start with two simple questions: What are you going to present, and who is your audience? Knowing your presentation in your mind is important, but knowing it in your heart is what will connect you with your audience. The more detail you put into brainstorming, the more targeted your seminar will be, which will lead to higher appointment and closing rates. Know your audience. After brainstorming the content of your seminar, you need to practice, practice, practice! Plus, you need to plan how you will actually fill the seats.
Investing your budget in seminars can be a big risk because every empty seat is a potential loss. You'll have to choose a venue, create digital advertising, target your audience, wait for proofing, leverage social media, and distribute email invitations and reminders…Sounds like a lot more administrative tasks doesn't it? This is where you really need to use the tools and resources available to you. I recently met with a company called White Glove who will literally do ALL of the work FOR you! You just pick the date, time and location. They will fill the room with qualified prospects! Best of all, you only pay for those who SHOW UP! Now, this is not for newbies or advisors who are struggling paycheck to paycheck. Their service is not cheap. They work with the very top advisors. So if you are making $200,000 and you want to get to $1,000,000, White Glove can help you get there.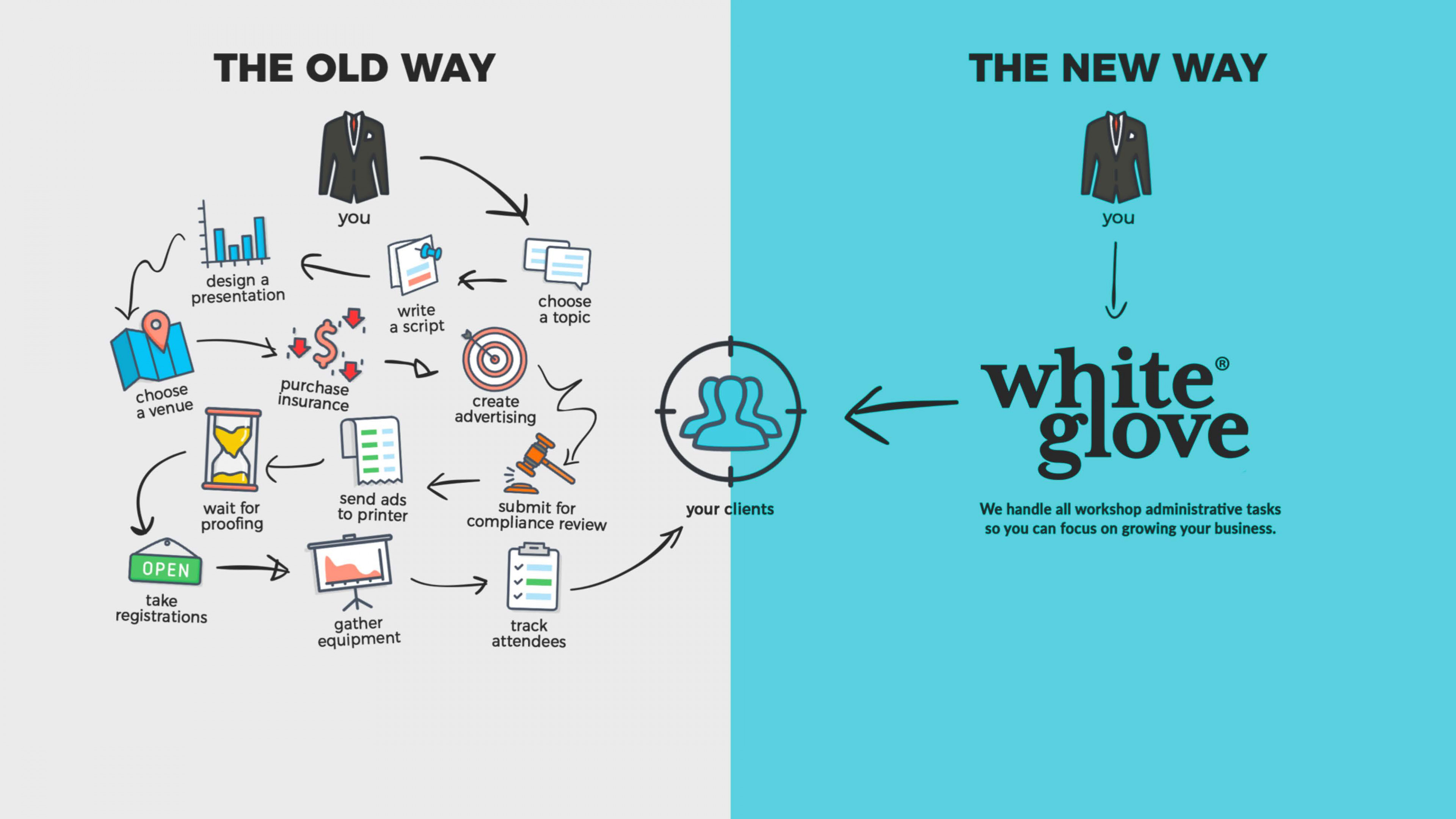 Optimizing your seminar is all about investing your budget wisely and controlling the risks so you get the return you expected. Better yet, in the same way your clients can transfer retirement risks to a life insurance company, you can transfer risks to White Glove! They handle the hassle of seminar logistics and get you in front of the right people. So instead of doing one or two seminars a year, you can now do one or two a quarter, even one or two a month! Plus, you can use any remaining time to follow up, nurture, and educate attendees to develop those long-term relationships for more recurring revenue. Learn how White Glove's program will bring qualified attendees to your seminar and help you grow your business in an exclusive webinar they are bringing to 200 of my followers. Save a seat because this could make your 2019 a HUGE year!
See you at your next seminar!
-Tom Hegna